ART THERAPY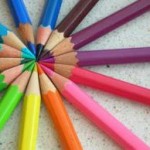 Art therapy is a Master's level profession that combines counseling techniques with methods of creative expression.
Art therapy is based on the ideas that art is a way to communicate, and that being creative is good for people.
Art can help people express what is difficult to put into words, provide insight, improve self-awareness, build self-confidence, develop problem-solving skills and provide a meaningful and absorbing experience that can improve mood and reduce distress from pain.
The type of artwork done or reviewed in an art therapy session is tailored to each individual's strengths, interests and therapy goals. The art therapist does not judge or analyze the artwork, rather helps each individual find personal meaning in their own expressions.
Art materials can include painting, drawing, collage, printmaking, sculpture, photography, writing, poetry, sewing, mixed media and more. As needed, the art therapist will support you in choosing materials and learning what you need to know to use them.
No art experience or talent is necessary to experience benefits from art therapy, and the process of creation can be as therapeutic and rewarding as the completed piece.